NV Rides September 2020 Newsletter
Hunter Mill District Honors Shepherd's Center Chair
Our newest partner, The Shepherd's Center serving Oakton, Vienna, Reston and Herndon, is proud to share that William "Bill" Farrel, Board Chair,
has received the Hunter Mill District Community Champion Award. Super
visor
Walter L. Alcorn
, Hunter Mill District, presented the award during this year's Virtual Volunteer Appreciation event.
Bill has been on the Shepherd's Center team since he signed on as a volunteer driver in 2006. Since then he has served in various leadership positions
. Bill's dynamic and friendly leadership style has transformed SC into a leading local chari
table organization, recognized and honored both locally and regionally for outstanding community service.
Rides trending upward as summer comes to a close
When the quarantine started March, the NV Rides program saw a dramatic decrease in the amount of ride requests across the network. While most of our partners remained operational, some suspended face-to-face services temporarily. Our dedicated volunteers continued to

meet the needs of their clients by arranging food and medication delivery and providing daily check-in calls. B

y leveraging our partnerships, we also worked together to meet the demand of the most critical needs clients during that time.
As the community started to slowly re-open over the summer,
completed trips started to trend upward.
We anticipate we will see a steady upward trend as we move into the fall as more cl

ients begin to request rides to medical appointments for preventative and chronic disease management, and to the grocery store.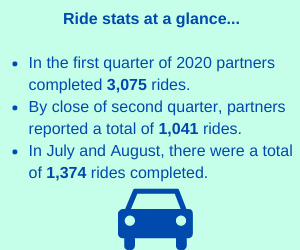 Vaccine Clinic at the Pozez JCC in Fairfax
Giant Pharmacy will be holding a vaccine clinic
in the west parking lot
at the Pozez Jewish Community Center
in September and October. A full menu of vaccines will be available, and they will be taking insurance just as they do in the store.
Save the following dates and have the peace of mind in knowing that your vaccines will be taken care of!

Throughout the month of
September, w
e are
partnering with
the Jewish Council for the Aging and our
sister program in Maryland, Village Rides, in a coordinated effort to increase awareness for the need of volunteer drivers to help the most isolated seniors in the region.
If you visit our website you will find
"Did you hear about us on WAMU?" at the top, which will navigate
visitors to information about both of our programs.
Let us know if you hear the spots and encourage friends and family to visit our special page to learn more!