NV Rides May 2021 Newsletter
In spite of pandemic, NV Rides finishes strong as new funding cycle starts
NV Rides closed the two-year grant cycle with MWASH-COG in March with a strong finish. When the COVID pandemic hit, and many of the network partners were forced to shutter for a few months, the future of the program was uncertain. As demonstrated through the winter, the network has shown resilience and strength in the face of all the challenges in 2020.
Over the two-year cycle, the network provided 25,113 rides and served 1,364 seniors and adults with disabilities who lack access to transportation resources. While many community-based programs grinded to a halt in March 2020, our partner network outperformed the number of rides compared to the years prior to the crisis.
Most importantly, the NV Rides network partners served their clients and gave them the peace of mind in knowing that they were not alone during those difficult months. They stayed in touch with clients via friendly caller programs and Zoom meetings to ensure that people were connected to one another and had the resources that they needed to make it through. We can confidently say that we are turning the corner and looking to better times ahead.
Over the next two years as we start to get back to "the new normal," our initiatives include developing an online platform for our partners to provide in-depth training specific to the older adults we serve.
But our biggest challenge today is having enough drivers to meet the demand. Many older adults have delayed routine care, and are now ready to see their doctors. Help us grow our volunteer roles and refer a friend today.
Badge Initiative for Volunteer Drivers
NV Rides will be distributing Volunteer Driver identification badges to all network drivers this summer. After getting feedback from clients and drivers, we determined that it is important for riders to be able to easily identify their volunteer drivers.
Identification badges that include the logos of NV Rides and our participating partner, along with official lanyards with the NV Rides logo, will allow riders to quickly identify their volunteer drivers, avoid any confusion and offer an extra reassurance to clients.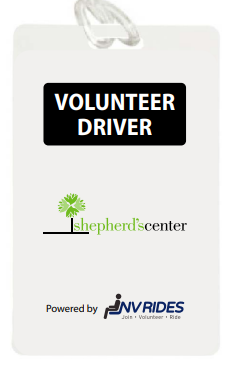 From the NV Rides Blog......
Breaking down barriers to reliable medical transportation
In April of 2020 we received an anxiety-ridden call from Mr. John Counts of Falls Church, VA.  He suffered a cardiac event and needed help getting to multiple doctor appointments, as well as rides to pick up his pharmaceuticals.  He could not afford taxi or ride share services to get to the host of appointments he needed to navigate in …